Hillesvåg Ullvarefabrikk (Hifa)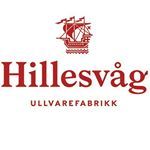 Hillesvåg Ullvarefabrikk AS is a family owned wool spinning mill founded in 1898. It has been in the same family for four generations. The mill is situated on the north side of the Oster fjord, about 35 km north of Bergen.
Hillesvåg Ullvarefabrikk is a newly certified Economusée. The wool spinning mill is one of ten Economusées in Norway today. Both customers and visitors are welcome to visit the wool spinning mill to see artisans at work. Here you can experience the traditional and colorful process of wool making. Visitors can follow the whole process from the wool enters the mill till the product is finished, and can see the hard work that lies behind the finished product.
The mill produces and offers yarn for hand and machine knitting, hand weaving and crocheting, and also carded wool for felt making. The wool and yarn are available in a wide range of qualities and colors. The production is of high quality and each product is handmade with passion and commitment. Some of the machines that are being used are over 100 years old.
The exclusive products are made out of Norwegian wool, and are handcrafted with love to bring further joy to knitters and wool enthusiasts all over the world.